Masonic Chairs

Masonic chairs are an art form unto themselves.
Their Masonic symbols go back in time hundreds of years and are part of Masonic history.
Since Freemasonry is built upon the symbolism of Solomon's Temple on Mount Moriah in Jerusalem, the Master's chair is symbolic of a King's throne.
Throughout history, no matter whether these chairs were roughly hand-whittled from logs and branches or lovingly hand carved by a master craftsman and ornately decorated with gold and filigree, the men who have sat in most of these chairs have been elected to and held the most prestigious position in their lodge,...that of the Worshipful Master.
Unlike a CEO of a major company who may choose a chair such as a Herman Miller Aeron chair for its prestige and its power to make a statement, or a business owner who might choose a Herman Miller desk chair for its comfort and lumbar support, these Masonic chairs have no ergonomic chair qualities, whatsoever.
These Worshipful Master chairs have no lumbar support, no tilt mechanisms, no levers and most have very little padding. They don't roll on wheels, have extendable arms or mesh seats or backs to keep you cool.
In fact, rarely will you ever find one which is for sale. If you do find one for sale, it is typically much more expensive than a top of the line, ergonomic office chair.
The difference between a successful businessman's empty chair and an empty Master's chair is that the Master's chair is symbolic of the Master's duties and loyalty to his lodge and its members.
The men who currently sit in or have sat in these chairs are honorable men who believe in a Supreme Being, universality among men and strive to promote peace and harmony within their lodge and actively support charitable work within their communities.
Here are some chair photos and drawings of them.

Scroll down the page, so you can see their hand carved and highly ornate detail work.
Several of the pictures and images, below are courtesy of Trepanier Lodge No. 83, A.F. & A.M. - G.R.B.C. & Y.
If you were looking for information about lodge officer chairs in respect to each lodge officer's duties, here is the page about ascending through the Masonic lodge chairs in the United States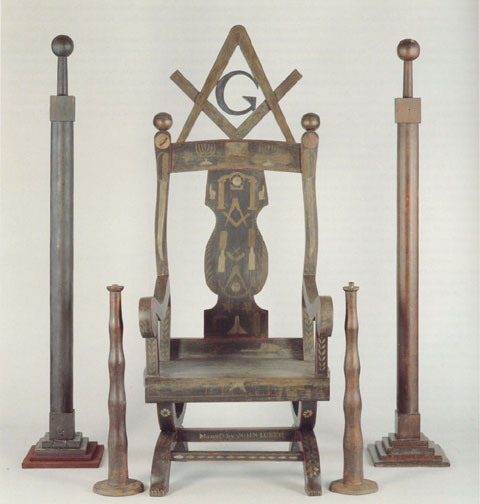 ---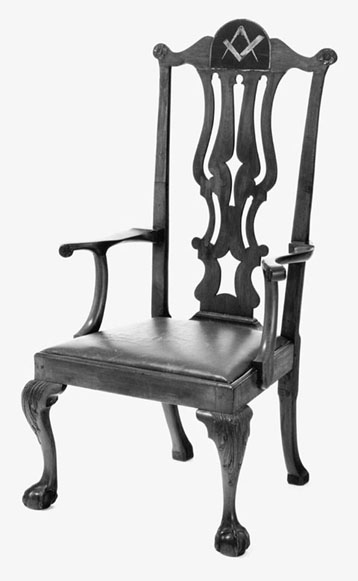 ---

The Pre-Revolutionary Masonic Worshipful Master's chair, below was built by cabinet maker, Benjamin Bucktrout of Williamsburg, Virgina between 1766 and 1777.

It is over 200 years old and is made of mahogany with black walnut and has rocaille ornamentation and its original leather seat.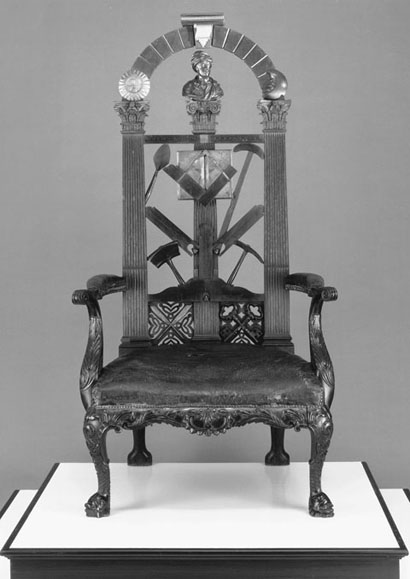 Before conservation work.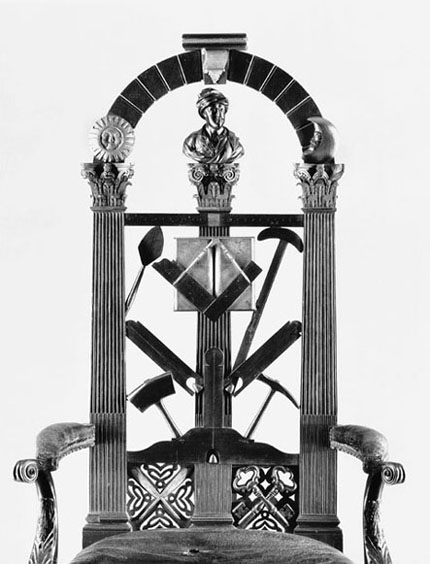 Close up of the back of the chair.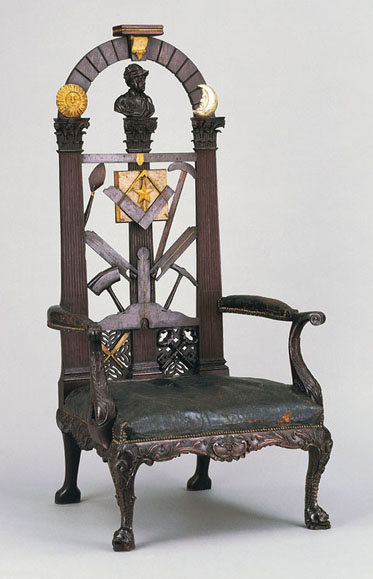 After conservation work was completed.


---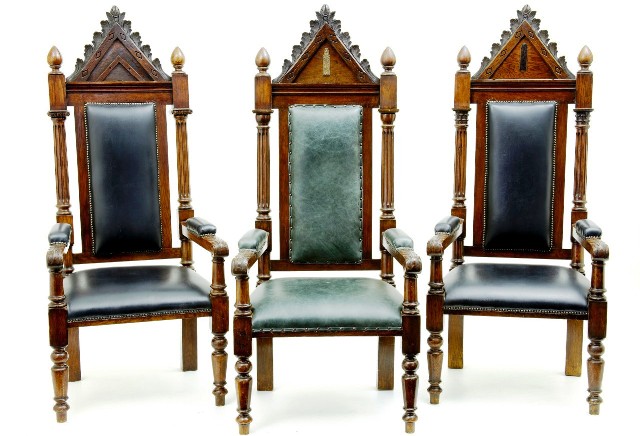 Above, are 3 solid oak, antique Masonic chairs.
Drawing of Chair. Notice the different legs.




Once in a great while, antique Masonic chairs like the ones above, appear for sale on EBay or in high end antique stores.